Titre générique de toutes nos interventions mettant en jeu un dispositif de captation en temps réel.
Comparable à la mise sous surveillance (audiovisuelle) d'un site, notre dispositif n'en a pas la mission. Le site, le lieu, l'endroit sont écoutés pour ce qu'ils sont, sans aucune discrimination de l'attention. Une forme sonore est déduite de tout de ce qui les compose pour laisser émerger une musicalité imprévisible. Le dispositif technique s'adapte à tout type de lieu, sans aucune limite, et ce quels que soient les moyens à disposition. La fabrication de cette interface constitue un des enjeux du projet puisqu'elle est conçue entièrement in-situ. En cela, rien n'est fixé à-priori, même si, dans son principe, "inscape" est aisément descriptible : un système de surveillance d'un site à partir des moyens actuelles de la captation sonore et visuel (microphones, capteurs de pression, etc…). Concert ou installation, elle construit sur une heure ou des semaines une interface audiovisuelle entre les multiples qualités d'un lieu et les recherches esthétiques des auteurs.

Inscape est issu d'une sorte de pari : "il est possible de faire de la musique avec tous les lieux" sans présupposer de quoi que ce soit quant à leurs qualités acoustiques, aux activités qui s'y déroulent, à leurs fréquentations, environnements, situations etc. — et surtout sans aucun artifice grotesque de "musicalisation" : bouclage, transposition, réverbération artificielle, etc. : autant de purs réflexes d'écoute musicale conditionnée …
Il y a donc souvent 2 types de lieux : celui de la collecte ("le terrain" — extérieur) et celui de la restitution ("le cabinet d'écoute" — intérieur). Lorsque nous sommes en temps réel, la frontière entre l'un et l'autre est dessinée par le seuil de larsen — ce qui fait que sous certaines conditions, ces deux espaces peuvent s'entremêler et aboutir à ce qu'il est convenu d'appeler de l'interaction — qui revient donc dans notre cas à confondre en direct ces deux lieux : quand le cabinet d'écoute et le terrain, l'intérieur et l'extérieur, ne font plus qu'un.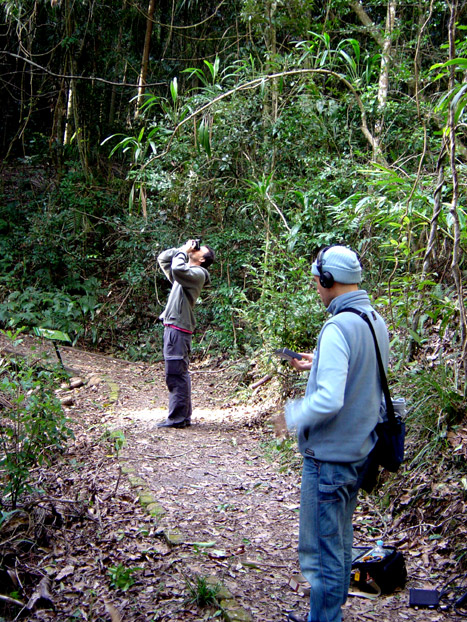 jean-luc guionnet + éric la casa, australia
A sort of umbrella name, bringing together various ideas and projects based in and around the real-time capture. Although comparable with techniques used in the audiovisual surveillance of a specific site, surveillance itself isn't the goal of the project. The site, the place, the environment are heard for what they are, without the prior discrimination of considered attention. A sonic form is inferred, or formed, from the constituent parts, in order to bring about a musicality that is unpredictable yet controlled.
This technical approach can be adapted to all types of places, without limit – and regardless of the resources that might be available. The set-up itself is a primary consideration of the project since everything is conceived in situ. Nothing is decided beforehand even if Inscape's broad principles can be set out, reasonably straightforwardly, as 'a system for the surveillance of a site based on available audio and visual resources (microphones, contact mics, etc…).
Whether in a concert or installation context, Inscape create, in an hour or over the course of a number of weeks, audiovisual projects which link the inherent properties of a specific place with the producers' aesthetic concerns.
INSCAPE = "everything in real time !"
Inscape is the result of a sort of bet : "it is possible to make music with all places" without presupposing what that music might be in terms of the acoustic properties available, or what events might take place there, who might frequent them and other environmental considerations – and, more particularly, without subjecting these places either to grotesque "musical" manipulation, such as transposing a sound X times in order to "find" a melody or a semblance of harmony or drenching a recording in reverb such that drones that go on for kilometres on end are created at the click of a button.
We ourselves define two types of place: one where sounds are collected and gathered ("the field" — exterior) and a place for gathering those sounds ("the listening booth" — interior). In real-time, the border between one and the other is defined by the feed-back ledge – which means in practical terms that under certain conditions, the two spaces can become intermingled in what might be conveniently termed an interaction. This serves in our case to confound there and then, in the moment, the two spaces – the listening booth becomes the subject of its own field recording, the outside becomes the interior, two spaces become one.